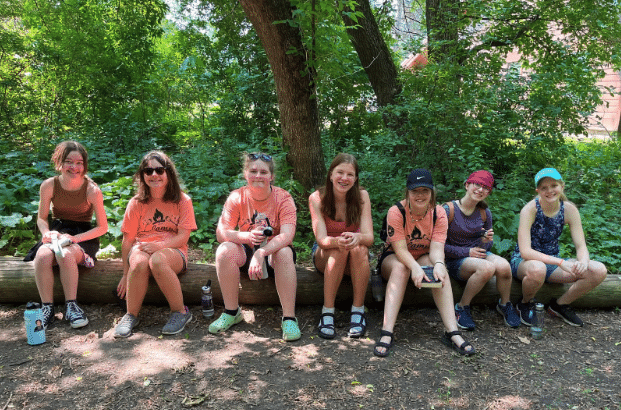 Our Tuesday began tastily as the campers couldn't get enough of the french toast breakfast. Seconds and thirds were the common theme for each table and the syrup flowed freely. With full bellies, campers slathered up in sunscreen, filled up their water bottles and headed out for the day's adventures. Once again there was a little bit of everything and camp equipment of all sorts was put to work. A definite highlight of the morning was being able to cook some delicious treats over an open fire but first it required the cabins to make a tough group choice from the menu options; fudgy brownies or pizza pudgy pies. Passionate debates were had over the age old sweet or savory question!
A lot of campers got their chance to harness up and tackle the rock climbing wall today while being supported by some very dedicated cheering sections on the ground. Personal achievements of all heights were celebrated and we are so proud of each and every climber. We even had climbers who took such full advantage of the opportunity that they ended up climbing three or four times! Blisters, shaking hands and sore muscles were proudly displayed as badges of honor.
The riverfront beach provided cool comfort this afternoon amidst all of the sunshine and cries of "Marco, Polo" echoed against the St. Croix River cliffs. I witnessed some swimmers slipping out of some pretty dicey situations as their blinded taggers followed in hot pursuit. Great lifeguards, lifejackets, and buddy checks made sure campers only needed to focus on splish splashing the time away. Those on the beach have plenty of options too: lovely sand for the sandcastle builders, lovely shade for those who wanted to stay cool, and lovely hot sun for the tanners.
Meatballs for dinner powered the campers up for the crowd-favorite Predator and Prey all-camp game. Cabins of wolves, bears, foxes, turkeys, rabbits, mice and more ran wild through the camp as they searched scavenger hunt style for the necessary water, food and shelter to survive the game. Watch out though! The animal groups at the top of the food chain were able to "hunt" the animals below them to fill their figurative tummies and the 15-second chases were filled with frenzied running for their lives. Turns out reenacting an ecosystem's delicate food pyramid by running, hiding and screaming is hungry work so campers finished the night by filling their literal tummies with chex mix for snack before bedtime.
Although Camp Oz is now half over, we have definitely hit that awesome turning point where cabin distinctions matter less and less and the campers just mix together in just the most natural way. Everyone knows now that they can just be themselves and isn't the feeling of belonging one of the most powerful things in the world?
Plenty more memories to make tomorrow!
Erik
Assistant Camp Oz Director
---
Thank you to Mayo Clinic for sponsoring Camp Oz!